Work Song by Danielle Allen | BOOK REVIEW
22:22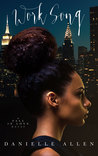 Work Song
by
Danielle Allen
My rating:
5 of 5 stars
Buy Work Song (Kindle)
When society tries to put you in a box, knock the walls down. –Tati Green
"You have a pretty face" is such a back-handed compliment. It's like telling me that my face is beautiful, but the rest of me is not.
Despite what society says, my curves are hot.
My love life, on the other hand, is not.
My mom says I'll never find love because of my weight.
My sister says I'll never find love because of my personality.
My almost-fiancé says I'll never find love because I'm incapable of loving anyone.
My mom and sister are full of it, but my ex kind of has a point.
At twenty-seven years old, I've never been in love. I date a lot, yet sparks never fly. But when I experienced the heart-pounding, skin tingling feeling for the first time, I didn't think it would be caused by a guy I've never met. And I damn sure didn't think he would end up holding my future in his hands in more ways than one.
My Thoughts
Work Song
is a story unlike any other I have come across. This novel takes a step out of your stereotypical characters generally seen in the Romance genre.
Danielle Allen's voice is very powerful and her characters are a representation of that. She touches on the everyday topics that a person, specifically a woman questions herself about everyday.
Am I thin enough? Am I too fat? Am I pretty enough? Am I good enough? Can I survive in a male dominated world? Can I pull at the top without forgoing my dignity and self-respect?
Tatiana Green just doesn't answer all the questions but goes far beyond these questions. She is confident, smart, witty with a banging body even though her mother and sister thinks that she needs to lose weight and an absolutely amazing career. And the best of friends that a girl could ask for.
Basically, Tatiana Green is the whole package. The kind of woman that most of aspire to be.
Enter Wesley Barnes. They both work in the same company but on the opposite side of the world. They start out as email friends. They are the perfect match for each other. Complete movie geeks quoting some of the best quotes left, right and center.
It's amazing to read how their relationship progress from a mere email to full-blown-hot-sex with a lot of movie quotes and daily banter. They wouldn't be Tati and Wes if they didn't quote a minimum of 3 movie lines.
The writing was great. It flowed seamlessly from one scene to another. I would definitely recommend this book to be given a chance.