Dirty Tricks (The Burke Brothers 4) by Emma Hart | BOOK REVIEW
23:16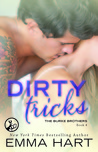 Dirty Tricks by Emma Hart
Buy DIRTY TRICKS (Kindle)
"
The sexiest, most mysterious Burke brother of all peels back his stage persona to reveal the real man—and the rock-hard body—behind the rockstar in the banging fourth book from New York Times bestselling author Emma Hart's hot new adult series that began with Dirty Past, Dirty Secret, and Dirty Lies.
After witnessing an endless string of late nights, long tours, and eager groupies her world-famous father could never resist, Chelsey Young knows the dirty truth behind the glamorous façade of the rockstar life. Which is exactly why she takes hot as hell guitarist Kye Burke to bed when he decides he wants her.
One night. That's how rockstars roll.
Unless your name is Kye Burke. The quietest of all his brothers, Kye's style has never really been pumping and dumping, so pursuing Chelsey isn't a hard choice for him. The hard part is keeping hold of the girl who's hotter than the Sahara one minute then so cold even Antarctica wouldn't touch her the next…despite the fact that they can't stay away from each other.
The fact that he's about to leave for L.A. to record the newest Dirty B. album doesn't work in his favor, either. A long-distance relationship is the reason Chelsey's parents divorced, and she's sworn them off. Completely. Forever. No way.
Kye has two weeks to prove to Chelsey that he isn't the kind of man her father is. She has two weeks to convince him that it's never going to happen. But Kye didn't get where he is by giving up…and even if it's the fight of his life, there's no way he's giving Chelsey up."
When the Burke boys love, they love with everything they have and are. When the Burke boys love, they love forever."
I a HUGE FAN of the Burke Brother Series and if you like myself are one as well then you know that Dirty Tricks is about the last remaining brother Kye Burke, the sweetest, quietest and possibly the kindest of them all.
Okay. Scratch that last part. Kye may be sweet, quiet, kind and a gentleman but what goes behind those closed doors... He definitely had some really 'dirty tricks' up his sleeve. Uh-huh. Totally get your head in the gutter.
The only thing I have full recollection of is the fact that Kye Burke can lick pussy like a champ."
Pfft! Told you to get your head in the gutter, didn't I? The Burke Brothers could have any girl they want but when they set their sights on one girl, any other girl in the vicinity can forget that they will even glance at them, forget second glances. When Kye sets his eyes on Chelsey Young, there is no going back.
One-night stands. We all know how well they work for our heroes. After one night with Chelsea, Kye was hooked.
He wanted a repeat. She didn't.
He chased. She ran.
But, once a Burke decides he wants something he goes after it. Kye charms his way to into Chelsey's life and persuades her to go on a date with him.
Kye couldn't get Chelsey out of his mind. Chelsey would do anything to forget him.
Chelsey growing up with a rockstar father saw first hand what a rockstars life entailed. She saw him rip apart his family when he cheated on her mother and left her. From then on, she decided that whatever happens she will NEVER fall for a rockstar.
Your hand is perfect because your fingers fit between mine just right…. Just like you fit me."
"Perfection is overrated."
"Maybe. But maybe so many people fail to find it that they never really appreciate perfection for what it is: imperfection perfectly appreciated."
Being with Kye Burke, loving him, would mean fighting for him every day. Fighting for the relationship we could have. The happiness and the laughter and the ease I feel whenever he walks into a room and smiles at me. Because that's it, isn't it? That's all it took. Him to walk in this morning and smile at me. Is that fight worth it? Is he worth it? Without a doubt."
Like any other couple, Kye and Chelsey had their ups and downs which were prompted by them rather than the outside world.
Emma started the book with a bang from the first page. When I say bang think firewroks, instant chemistry, sparks flying. They were HOT when apart but SIZZLED when together.
Kyle Burke was absolutely swoon worthy! He was literally PERFECT! He was so sweet and understanding with just the right amount of assertiveness where Chelsey was concerned. I just wanted to bring him out of the book and cuddle with him! 'Le Sigh!
After finishing the last page of the book it was a bittersweet feeling. I was so happy that all the four Burke Brothers found their cliche. You know the perfect happy-ever-after. But closing on that last chapter I was sad that the anticipation for the next book to come out wouldn't there anymore. These boys and their significant others were so easy to fall in love with and you just couldn't choose which one was the best of them all.
The journey of love started with the youngest and my favorite brother Conner in Dirty Secret and moved onto the manwhores Tate in Dirty Past and Aiden in Dirty Lies and finally to the sweetest of them all, Kye in Dirty Tricks but let me tell you, there was nothing DIRTY about the love they share with their ladies and the most adorable book baby ever, Mila. She is such a sweetheart!
I will definitely recommend this series to everyone!
It doesn't matter, babe. It doesn't matter how many goddamn fuckin' miles are between us, because I'm gonna love you for every mile I travel away from you and toward you. I'm so in love with you right now that you could be hopping on a rocket to Mars One and I'd still love you for every second of my life that's left.I love you. Doesn't fuckin' matter how far away from you I am. I'm gonna love the hell outta you anyway."
5 'Tricks' Stars!